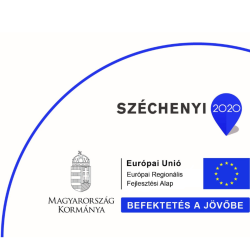 ESG Pilot – Consulting Program at CÉH Zrt
In alignment with CÉH's dedication to sustainability, adaptability to the evolving business landscape, and the expansion of our international presence, we established an ESG strategy in 2022. Our strategy aims to quantify our own impacts, enhance our ESG data collection, and prepare a high-quality ESG report. The ESG Pilot consulting program plays a crucial role in effectively supporting these endeavors.
The primary advantages of the ESG consulting program for our company include:
Collaborating with large domestic and international companies: We work closely with numerous prominent companies, both domestically and internationally. These organizations have increasingly high expectations regarding ESG practices for their business partners. Notably, the BMW Group, for whom CÉH zRt. manages the project of their factory construction in Debrecen, places significant emphasis on ESG compliance. Meeting their stringent ESG requirements is crucial for our involvement in the factory's development and the necessary documentation. Improving our ESG performance is strategically important to meet the expectations of our partners and maintain our market competitiveness.
The construction and development industry is significantly impacted by regulations supporting the transition to a greener economy and the stricter expectations of green financing, such as the EU Taxonomy. To ensure the long-term green financing of CÉH Zrt.'s value-creating work through business partners, it is vital to continuously improve the organization's ESG maturity.
A key future objective for CÉH Zrt. is to enhance the knowledge of its employees and supply chain regarding sustainability, as well as promote the principles of sustainability in engineering and public discourse. Regular and transparent communication of our ESG-related objectives and results can serve as a crucial tool in achieving this goal.
The Project has been awarded a support amount of HUF 14,850,000, which equals fourteen million eight hundred and fifty thousand HUF. This support amount represents 100% of the total eligible cost of the Project.
Project completion date: May 31, 2023.
Project identification number: GINOP-1.1.7-17-BÉT-6-015
The complete ESG report can be accessed through the following link: