Due to our expert personnel having several years of national and international experience, we are able to manage the whole BIM process. Our effort is confirmed by the success of more than 150,000 m2 building area planned and implemented in BIM method.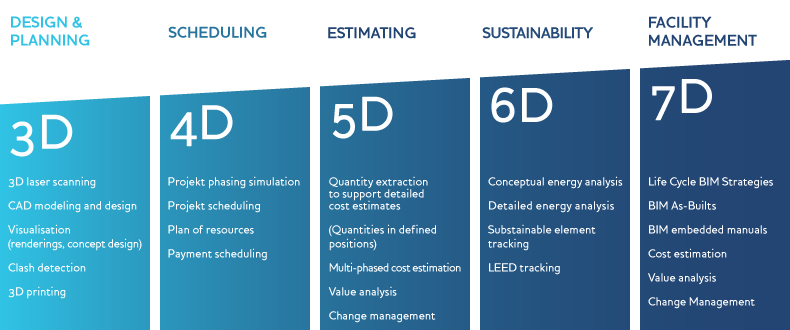 Our Services
offered both individually and jointly are :
Extended to all specialties, complete 3D planning, modelling and impact test of buildings and structures. When implementing civil engineering projects, we coordinate the investment process to represent customer interests, control the costs and provide technical supervision, as well as perform all the project management functions.
BIM process development and management throughout the project.
Control of drawings for projects planned by other offices and making the impact test.
3D laser scanner survey and modelling with hardware and technical team of our own in the following areas: survey of existing facilities, monuments, archaeology, in the construction phase (for recheck), as-built plan to be used for the proper operation.
Planning and managing building operational processes (from a technical and economical point of view).
What does BIM mean?
BIM or Building Information Modelling is a work process for tracking the overall lifecycle of the project: from the very beginning through the implementation and operations until the potential termination of it. As regards the type of the project, it can be a building, bridge, road, engineering structure, public utility or any civil engineering building over ground or underground.
During the BIM process the most modern CAD and data exchange technologies are applied in the planning, construction, and operating processes, facilitating thereby the model based project planning and project control.
The BIM work processes are based on a 3D model built in a virtual environment which refers to the technical content of the building and provides its geometrical and structural image in space.
Why should you use BIM?
The uniform standards, regulations, shared models and information applied in the work processes improve:
the cooperation between the actors (trades, project management, designers and building contractors),
the coordination of works,
the quality of design ,
planning ability and tracking of the construction processes, and
planning and monitoring of costs.
Using BIM, the project can be implemented through better planning, in a faster manner, at higher quality and lower cost.
Please have a look at these related projects